Disclaimer
Hey, My name is Elvis Gwaro. You must be wondering how I got into your mailbox. Allow me to explain.
I have this blog called Kampusville where I used to write articles for youths and university students. You probably came across it one time and either signed up for my newsletter or left a comment for me. So, I saved your email somewhere safe to reach out to you when the right time comes. That time has come.
I'm building a newsletter where I will be sharing stories, tips, advice and opportunities around the digital economy; ideas that might inspire you to venture into this space. Psst! It's the future of work.
I'll be sending these letters once a week on Thursday – for now. I know that's the time the week feels most boring and you can't wait for the weekend. If you'd love to get these letters, welcome aboard, you're already subscribed. Thanks for believing in me.
On the other hand, if you're not interested, I respect your decision. You can unsubscribe at the end of this mail. But before you do so, take a few minutes to read today's letter and see whether it adds value to you or not. Then you'll decide.
Enjoy!!
---
This week's letter contains
1 Nugget
1 Gig idea
3 Gig-Treats
---
Nugget
When I was done with my engineering internship, I felt it was time for me to make a decision; whether to continue working in an industry that didn't entice me or to jump into my passion (writing) and run with it.
The logical decision for the woke millennial in me was to go for the latter. I was excited. I imagined the success I was about to achieve and making all my dreams come true. My parents weren't happy with my decision.
Here I was, turning down a lucrative opportunity to become an engineer and immediately dive into the 6 figure salary world. Was I cursed? They wondered.
I went on with my business, never caring to listen, thinking that in one year, I'd have made millions like other bloggers, be living in a fully furnished apartment in a posh quiet neighborhood and driving a sleek car. That was in September 2020.
It's now 2023 March. I live in a bedsitter, 20 meters from the super busy Ngong Road.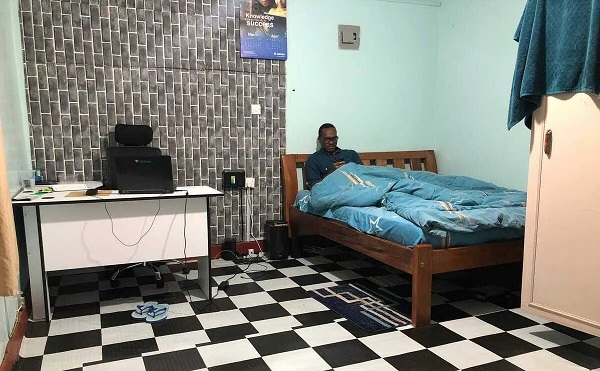 Most of the dreams I thought I'd achieve within my first year of following my passion are still just that; dreams.
Well, I've made a bit of progress which I am proud of, and I know I'm on the right track now. But deep down I feel like I failed because my journey has been quite long. What would I have done instead?
It's noble to give up everything to follow your dreams. But it's stupid to think your dreams will come easy.
When you make a decision to take a pass on an opportunity to follow a passion, be prepared to be disappointed.
It takes time. Kindly read that again.
If I knew I'd still be living in a bedsitter in 2023, I would have continued with my engineering path for a bit longer while planning a more strategic pivot into writing. For instance, doing it as a side job until it earned me more than my engineering job. Maybe then, I would have succeeded faster.
But a good exit strategy can only do much in giving you a great starting point. Growing is a whole other story. Which brings me to my second biggest lesson. I'll be sharing it in next week's letter, stay tuned.
---
Gig Idea – Bad Ratings Terminator
Today almost every business is online. Business owners created social media handles and business listings to become discoverable and attract more customers.
For instance, tourists ussually search for the best restaurants and hotels around the place they're visiting. A business listed online and on social media will easily get their attention.
But here's the challenge. Businesses can suffer from bad ratings.
I'm sure you've heard of The Alchemist; one of those high class bar joints frequented by expatriates. Here's a bad review of the place.

Here's another one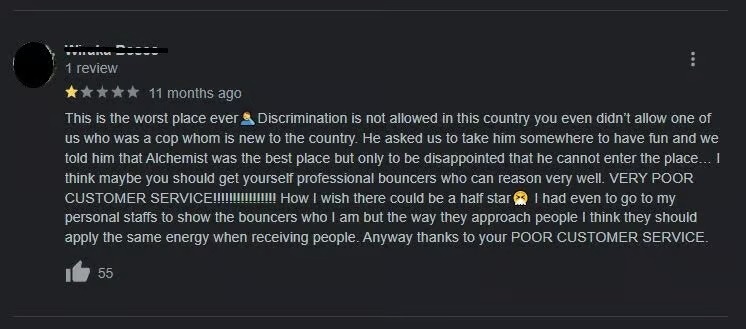 Having read such comments, from more than a dozen people, would you want to take your babe there for a dinner date? Certainly not.
Luckily, The Alchemist has over 5,200 reviews with an average rating of 4.3 / 5.0. This means most customers enjoy their services, and such negative comments would be easily drowned in the flood of positive reviews.
Not every business has this advantage. Small and new businesses, in particular, might suffer heavily if such comments are left on their online business listings and social media handles.
And that's where you come in.
You can be that person who protects such businesses from bad ratings. I'd call it 'proactive online reputation correction'. Give them value (protect them from negative comments while increasing positive comments), and they will pay you well.
How do you do it?
Step 1: Create a landing page for a business. This page will be responsible for collecting reviews from customers.
First, it asks the customer if they had a positive experience.
If they click on Yes, it redirects them to the business's Google Business Listing page, where they can leave a positive review.
If they click on No, it opens up a private entry form where they can drop their negative reviews, which the business can sample later and study to improve their services.
This landing page reduces instances of people leaving negative reviews on public profiles (on Google and social media) while increasing instances of people leaving positive reviews.
Step 2: To direct customers to this landing page, create rating cards with a link and a barcode that direct the customers to the landing page. Anytime a business finishes servicing a customer, they can hand over the card and request the customers to leave their review. You'll need lots of cards, enough to sustain them for a month before you print the next batch.
Now, how you'll charge for this service depends on you and how well you can convince your target clients. But set a benchmark of at least 150% the cost of setting everything up and buying cards for a month. Then, once you convince your client with results, you can ask for a 6 month or 1 year retainer to keep up the good work.
If you like this idea and wish to give it a try, drop a comment so we can get into the nitty gritty of it.
---
Gig-Treats
Notion: In need of one place where you can organize your entire life learnings, ideas, notes, plans, projects etc. and access everything at any time? I've been using notion since last year and it has made my work more structured.
In January, Upwork, the freelancing job board giant, released a list of the most in demand skills in 2023. It also noted that companies are increasingly turning to skilled freelance professionals to meet key project needs and address skills gaps. Align yourself appropriately.
Have you heard about ChatGPT? Well, some guy decided to ask it to turn $100 into 'as much as possible', and began implementing its advice. Now the business he created from the instructions is worth $25,000.
That's a wrap for today. Let's meet at Twitter fellow keyboard warrior —>> @elgwaro