Good morning good friends. I hope today's letter gives you the courage to bet on yourself.
Here's what I've got for you
????1 Nugget
????1 Opportunity
???? ???? 2 Quotes
---
Time To Put Aside Everything Else and Focus
I'm very fond of new beginnings. It's an addiction. I want to wake up any day and completely change any aspect of my life. Be it my job, where I live, or what I do for fun.
I cherish that feeling of renewal. It gives me a dopamine hit. It's like I've been given a second chance to build something better.
Obviously, this hasn't served me right especially when it comes to entrepreneurship. I'm more exhilarated about starting a project than finishing it.
And if you know me well, you know I also struggle with shiny object syndrome.
I think these two have been working together to lead me into the abyss of mediocrity, and I'm not allowing that to continue happening. Here's what I've done;
Listed all the projects I wish I could work on right now
Selected the one project that's the most priority to me
Picked projects that contribute to the main project without taking too much time.
And here's the plan for the next 6 months; everything I'll work on (besides my freelance writing tasks) must have a direct contribution to my number one project; growing newsletter subscribers.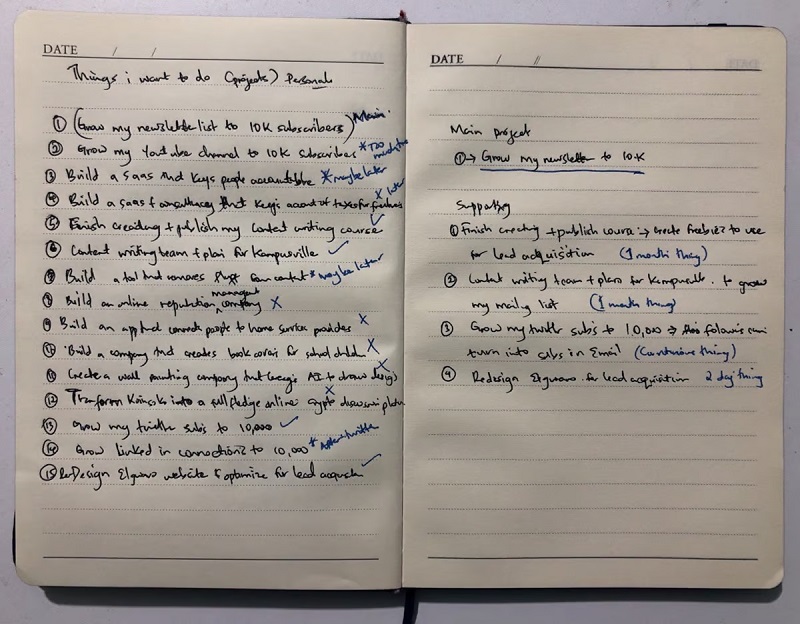 To all other projects – sorry guys.
In the spirit of developing a desire of finishing projects, I will only revisit the other projects and restrategize after I've achieved my goal for the current project.
To keep me focused and accountable, here's the Google Sheet where I'll be updating my progress once every week. My accountability partner will charge me Ksh. 1,000 for any week I fail to update my progress before sending the Thursday letter.
If you too find it hard to complete your projects or are always running after the next big thing, steal this strategy, and let's see how it goes.
---
A Solution People Can't Ignore In Future
Ideas are worthless if you cannot turn them into solutions. That's why today, I'm burying my apprehension about sharing my well-guarded million-dollar ideas without feeling like I've shot myself in the foot. Regardless, more will keep coming and disrupting my focus. So, if you're a developer, here's an idea you can steal and run with it.
There are two things you'll never escape; death and taxes. For now, let's focus on taxes.
I know you hate them. I don't like them either, especially in a country where their use is not clear. But however much we detest them, we can't escape them. And if we do, we risk getting caught by the long arm of the law.
Now, because most people don't like taxes, they don't take the time to understand them. This creates a knowledge gap. Meanwhile, governments are desperately looking for ways to squeeze more taxes from us.
As technology advances especially with the emergence of AI, my prediction is that powerful tools that will 1000x the ability of the government to audit citizens and sniff out tax evaders will be invented.
When that time comes, you'll not afford to ignore taxes, especially for freelancers who think they're off the hook. These AI-powered tools will simply take your name and spit out the money you owe the government since you turned 18, in a matter of seconds.
So what can you do about this?
Create a platform (website or app) that makes it easy for freelancers to keep a record of their transactions for taxation purposes. In addition, you can also integrate tax compliance guides and tips to enlighten freelancers on how to legally lower their taxes.
Regardless of how long it will take, the government will still catch up with freelancers. When it finally does and you happen to have an established solution for freelancers, you'll be smiling like a sheep on Forbes's cover page.
---
Quotes
People think focus means saying yes to the thing you've got to focus on. But that's not what it means at all. It means saying no to the hundred other good ideas. You have to pick carefully. Innovation is saying no to 1,000 things.
Society has programmed us to think we need qualifications to do things. The only qualification you need to make money is an internet connection.
Chao! See you next week